It's been nearly a year (shy two months) since I've done a Things I Love Thursday. Let's remedy that, shall we? Because I have a lot of things to add to this mother-flippin' list. But for time purposes, I'll keep it down to five.
1. Thomas Sanders
Usually these things aren't listed from most to least favorite, or vice versa. But hot damn, I gotta put Thomas Sanders first. You've seen his vines. Everyone has seen his vines. This is the homie that does the Narrating People's Lives ("Storytime!") vines and they are hilarious. He's even got his own youtube channel, and pretty much every word he says/sings melts my heart of ice. Also, he's a theatre buff?!?! Do I need to tell y'all how much theatre means to me (and how pretentious I look by spelling "theatre" that way)??!?!?!?!
I need to add this as well: he's actually contributed to the recuperation of my mental state. Okay, okay, yeah, it sounds stupid. A famous viner makes me feel less self-destructive. Honestly, yeah! His messages are always filled with happiness and love and being true to yourself. I believe God put this precious real-life Disney prince on this earth to be an sign of peace,  beacon of hope. Thomas Sanders is a national treasure and must be protected at all costs. At. All. Costs.
(He favorited four of my tweets this week and I almost shed a tear of joy.)
2. Blood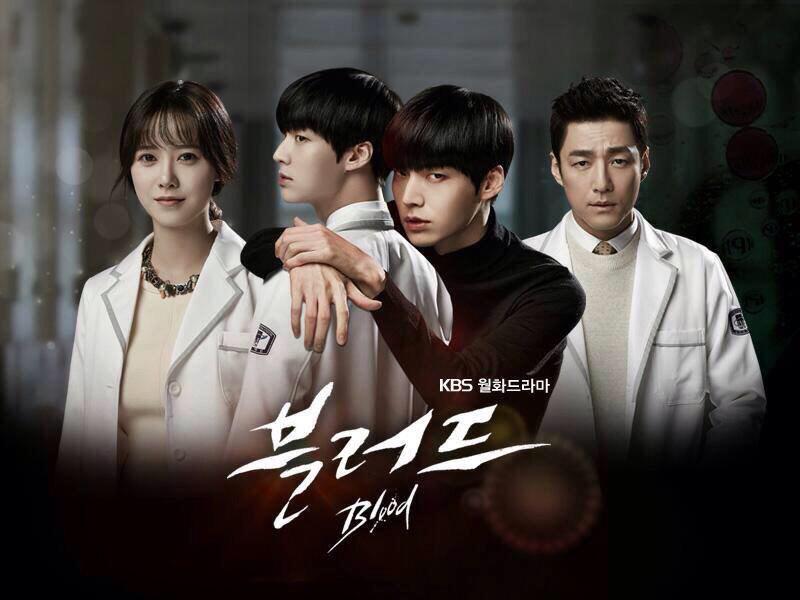 Vampires. Surgeons. Love. Vampire surgeons in love. What doesn't this drama have?
Since Blood is a brand spanking new drama to hit the television screen, I am not able to binge-watch the whole show like I am accustomed to. Two episodes each week, twenty episodes total. Now, it's no My Love From Another Star, but it's friggin' fantastic by my standards. Fights, blood (though it makes me a bit queasy), slow-burning romance. Ambiguous as hell characters that really piss me off! Are you evil or nah?
Park Ji Sang (played by Ahn Jae Hyun) is a top-notch surgeon in Korea, but he has a secret: he's been infected with the VBT-01 virus since birth. This virus has turned him, and few others, into what we know as vampires. Obviously, other vampires discover him and attempt to kill him in nearly every episode. And of course we have the beautiful human love interest in the form of shit-talking sass-master Doctor Yoo Ri Ta (played by Gu Hye Sun).
3. Dark Room lipstick by Melt Cosmetics
Melt is my favorite make-up company, hands down. All their lipsticks are matte and each color is wonderfully vibrant. So far I have obtained, By Starlight, DGAF, and Dark Room. I'm eyeing Bane next. Oooooh, I just love the tones in Dark Room! When I wear it I feel like a really cool villain, or an evil queen (which could be the same thing, but whatever I look awesome).
4. Agent Carter
Ah, Peggy Carter. Be still, my heart.
The first season has ended, and it makes me really sad because it was only eight episodes. And each day I pray that  this show gets a second season. This show has everything. EVERYTHING. Forreal.
Humor, fighting the patriarchy with fists and one-liners. ESPIONAGE. Badass ladies who kick ass and still have femininity. Bisexual Howard Stark (I mean, come on, he practically spells it out for us), freaking Edwin Jarvis, and probably my favorite thing from the show, Peggy beating the shit out of men to the tunes of Peggy Lee.
Peggy Carter makes me feel ready to take on the world.
5. 한글 (Hangul)
This is a shot of my  Korean notebook. Oh geez, it's so messy.
My friend Brittney, and a whole lot of K-dramas and videos of Korean culture, really influenced me to take up learning Hangul. And, readers, it is so much fun! The language is beautiful, Korean food is hella dope (have you ever had kimchi soup? Hot DAMN), their culture and history is inspiring.
Right now I'm learning the Hangul alphabet and basic Korean words and phrases through KWOW (Korean Word of the Week) on the sweetandtasty YouTube channel. The videos are so cute and fun while still being informative. Also, it's true what they say about learning another language: repetition helps! Songs, films, television shows. USE THEM. You will pick up on phrases they say and how they are said and how they are used in sentences. Like, there are six different ways to say sorry, and it all depends on who you speak to.
And since I'm a dork, I got the Hangul keyboard on my phone and I can write out my name in Hangul as well.